Welcome in the Auvergne
Le Breuil
At the foot of the Bourbonnaise Mountain, very close to Lapalisse and Vichy, the small village Le Breuil awaits you. There is a lot to discover here, like the church from the 12th century, local crafts, trout brooks, the botanical gardens…
More details on: https://www.lebreuil03.fr/
photos: Thierry Convers
The Montagne Bourbonnaise
Green hills, undisturbed nature, picturesque villages, arts and crafts, a small waterfall (la Pisserotte):
More details on: https://www.tourisme-montagne-bourbonnaise.com/fr/
Lapalisse
Litte town of Lapalisse and the famous Castle of La Palice
Visit the famous La Palice palace, go for a walk through the city park or try out 'Vérités de Lapalisse', a local speciality.
During the summer holidays (end of july/august) there is a Sound and Light Show at the castle.
More details on: https://www.lapalisse-tourisme.com/
Another great event ist the: Embouteillage de Lapalisse, a famous oldtimer gathering along the Nationale 7 – a travel back in time to the 1950-60's. The next embouteillage will be in: October 2021
More details on: https://www.embouteillage-n7-lapalisse.com/
Vichy
Vichy is a city of Auvergne located at about forty kilometers of Clermont-Ferrand.
On the right bank of the Allier, the main tributary of the Loire, it has a rich and ancient history that attracts many visitors. It is above all its sources, with the therapeutic virtues recognized since the Gallo-Roman period that seduce the tourists of passage. The station, which attracted in its time such illustrious figures as Napoleon III or Madame de Sévigné, is not lacking, still today, of splendor and beautiful architecture. You can discover one of the largest spas in Europe, with a hot tub or a thermal water pool.
Located at the center of the old province of Bourbonnais, Allier, whose history is closely tied to that of the saga of the famous Bourbon dynasty, contains a significant built and cultural heritage, with castle forts, Romanesque churches, towns and museums all providing a reminder of its rich past. When it comes to nature, there's plenty to discover, and the area is ideal for outdoor activities: the Bourbonnais mountains for hiking, horse-riding and mountain biking; the Chouvigny Gorges for canoe-kayaking; the Riers Allier, Cher, Sioule and other waterways for a spot of fishing; the Tronçais Forest for a walk amid the ancient oaks and peaceful ponds… And to unwind after a day out visiting, there's nothing like a well-being session at the Thermal Baths in one of the three spa resorts in Allier!
Source: https://www.france-voyage.com/tourism/vichy-1744.htm
More details on: https://www.vichy-destinations.fr/
Auvergne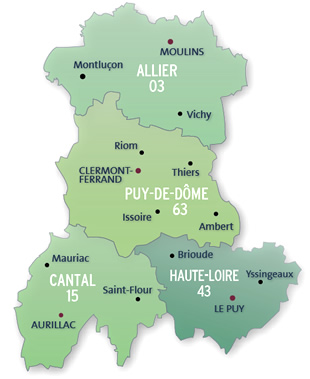 The Auvergne is the green heart of France, right in the middle of France and Europe. The Auvergne offers its visitors breathtaking landscapes with forests and lakes: For example here you will find the largest collection of volcanoes in Europe, Vulcania, the only European volcano theme park, two nature reserves, over 500 roman churches, over 50 castles and palaces along the historical 'Route Historique des Châteaux d'Auvergne', 10 thermal spring towns in the Belle Epoque style… A UNESCO WORLD HERITAGE SITE
The Chaîne des Puys – Limagne Fault was awarded Unesco World Heritage status on 2 July 2018.
https://www.clermontauvergnetourisme.com/en/sports-and-outdoors/chaine-des-puys-limagne-fault-unesco-world-heritage/ Along the routes that cross through the departments of Allier, Cantal, Haute-Loire or Puy-de-Dôme, there are numerous sport and leisure possibilities: hiking, mountain biking, riding, paragliding, canoeing, bathing or during winter long-distance and downhill skiing or snow-shoe hiking. The Auvergne offers a diverse range of gastronomy, enjoyable feasting and a distinctive sort of hospitality.
All details on: https://www.auvergne-destination-volcans.com/

Le Pal
Le PAL was founded in 1973 and owes its originality to the combination of three aspects: it is the only park in France that combines park attractions with animals and unusual accommodation. Le PAL offers 30 attractions, 700 animals, animal shows and educational presentations on a 50 ha natural site. With 620,000 visitors in 2019, Le PAL is among the 5 most visited theme parks in France. It is now the third most visited tourist destination in the new Auvergne-Rhône-Alpes region.
You will find all details on: http://www.lepal.com/